Football referees should take extra care in safeguarding their credibility whenever being appointed to any matches, National Football Association of Brunei Darussalam's (NFABD's) General Secretary said during his closing remarks of the TDAFA Futsal Refereeing Seminar closing ceremony held at the Lanes Hotel, Tutong town yesterday.
Mohammad Shahnon Haji Mohd. Salleh highlighted this as by doing so, referees' integrity and trustworthiness could help protect them from any unwanted incidents and responses – during and after matches.
"…and due to their (regulative) roles, it is not uncommon to see referees being publicly scrutinized, jeered and contested – which may affect them and their advancements in the football scene," he said.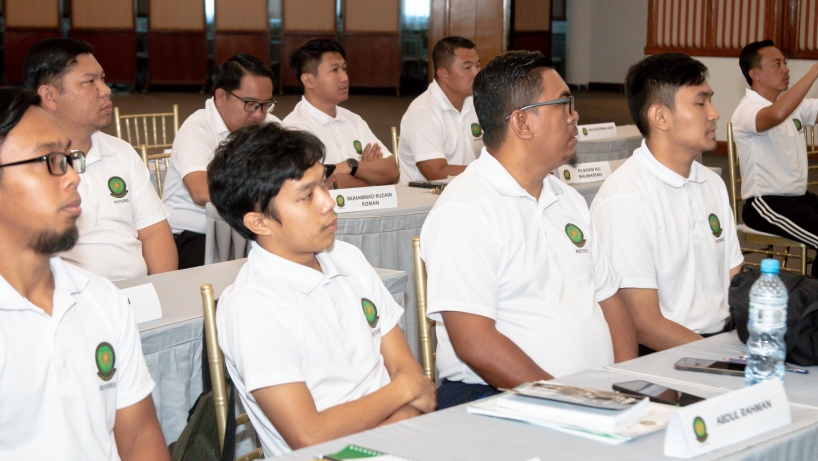 "That is why, being able to evaluate matches fairly, with decisions made based on factual checks, I am sure referees can be well protected from anything that may be a threat to their growth," he added. Facts, intellectual and swift decision making will only be in great implementation when referees attended the courses, seminars, educational programs and execute their knowledge when officiating. Thus, will increase the value, integrity and respect from the audiences.
Among what he outlined was for referees to make proper declarations should matches they oversee involved their relatives, friends or coworkers. This is very important so that the referee committee could take immediate actions and evaluate any considerations well based on proper consensus.
Besides that, the General Secretary also urged referees to speak up their mind and work well together and not to turn to social media with malicious intent or being a keyboard warrior should they are not happy with any decisions made. Honesty and trustworthy as he repetitively emphasized will bring the Brunei's football to greater height.
In addition, he also urged the young, newly inducted and potential referees to be more proactive in developing themselves through opportunities such as learning programmes and courses.
Bandar Seri Begawan
NFABD